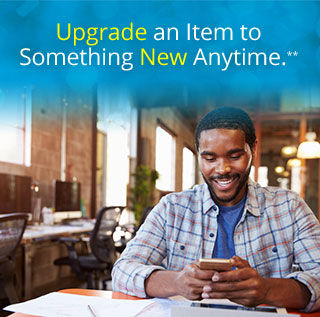 Can I upgrade at RAC?
---
The speed of technology means that new products from top brands like Samsung are always on the horizon. If you like staying on top of tech trends, you'll love the fact that Rent-A-Center offers you the ability to upgrade to newer products, including state-of-the-art laptops and the latest Samsung smartphones, during your lease term.** Stay on the leading edge of technology with the newest tablet, the coolest video game console, the ultimate home theater system, or the perfect Samsung smartphone. At RAC, we don't want to you settle for a product you don't want or need. Let us know how we can help you with product upgrades.
Product upgrades are also available for furniture, appliances, and TVs. Expecting another family member? Moving to a new home? College kids returning for an extended stay? Anticipating extra guests for the holidays? Need a larger view for the big game? If you find your needs have changed and an upgrade is in order, we are ready to help. Whether you need a bigger sofa or sectional, newer refrigerator, stove, or washer dryer set, or a larger smart HDTV, just let us know. We are happy to assist you with all of your item upgrades today.
Does It Cost to Upgrade?
---
At Rent-A-Center, we don't charge you a service fee to upgrade to a newer model. We simply adjust your payment plan to reflect any price difference. Product upgrades are a part of our
Worry-Free Guarantee
. The benefits of item upgrades include:
You're pre-approved for purchases with no credit needed.
You select the best way to pay: cash; or set up weekly, bimonthly, or monthly payments.
Delivery and set-up are included at no additional charge.
You have the right stop or freeze payments at any time, and then resume your payments at a later time.
Repairs and service are included with your purchase.
You can upgrade to a newer product at any time during your lease term.**
How Do Product Upgrades Work?
---
It's easy to transition from your existing product to a new product. Simply visit your nearest
RAC location
to return your existing item in exchange for an upgrade to a newer model. Our customer service representatives are ready to help you bring home a newer item from top brands like
Samsung
,
Ashley
, and
Frigidaire
, and the process is quick and convenient. Don't get stuck with a product you have outgrown, no longer need, or simply don't want. Upgrade today.