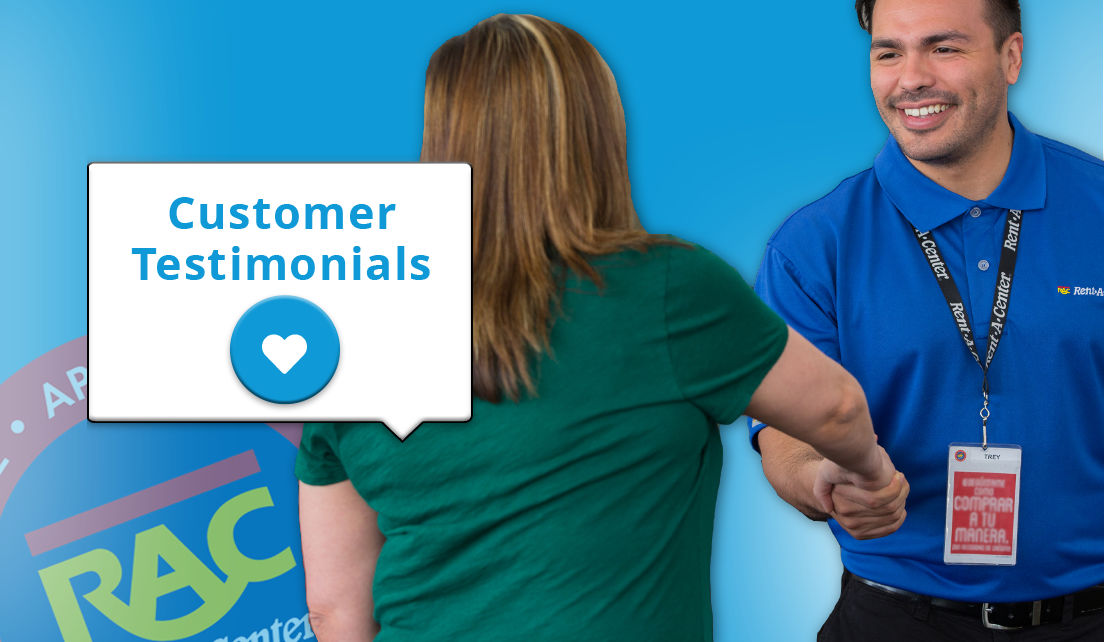 Customer Testimonials
This is why we do what we do, but don't just take our word for it. Let our customers do the talking!
"I shopped with RAC for years!! The staff is always friendly and helpful. If they don't have what I'm looking for they go the extra mile to find it at another store. The staff is AWESOME at the Village Rd. Leland location. - Excellent staff and merchandise - I love RAC!! Always affordable."
Michelle B. - 10/2021 – Leland, NC
"I have rented and bought several things from RAC. They are always willing to help. Great customer service. I have had to switch out a couple things and they do it graciously!! They are willing to work with me on prices when getting several things at one time. Very happy with products and the great employees at Jefferson City Mo RAC!!!"
Dana K. - 10/2021 – Jefferson City, MO
"I have been a customer with RAC for many many many years. I love the quality of every item I have purchased. The staff are very helpful and always there when you need something. My Husband and I do not buy household items from anywhere else but RAC!"
Nancy W. - 10/2021 – Plainwell, MI
"The customer service was outstanding. Delivery was outstanding. - Kareema and Sam at the North Charleston store are fantastic. They provided fantastic customer service and helped me get a table in record time. I am very impressed with both of them. Thank you for the help!"
Samantha G. - 10/2021 – North Charleston, SC
"Online application was easy to understand and apply. Customer service was great by the Office manager--over the phone. The delivery men were very polite and punctual in bringing the merchandise that I needed. The price for what I paid was fair."
Jacqueline H. - 9/2021 – Durham, NC
"The most amazing customer service! When our refrigerator suddenly broke down, we were in need of a temporary replacement immediately. When we called Rent-a-Center, they were so kind and responsive. We were able to get a refrigerator on the same day! Truly grateful."
Michelle W. - 09/2021 – Beaverton, OR
"They were attentive, friendly, and helpful. Delivery was fast and seamless. Everything was explained thoroughly and all of my questions were answered. I definitely recommend the Rent A Center on 15th street. I also love the 6 months same as cash option."
Steven B. - 09/2021 – Tuscaloosa, AL
"The total experience was great - Payment and delivery is great - Associates are very pleasant and flexible. Overall I'm highly satisfied with both my agreements."
Shawna H. - 09/2021 – Kennewick, WA
"Found exactly what i was looking at a great price! Very friendly! - Happy Customer"
Clayton M. - 08/2021 – Leitchfield, KY
"Excellent service, rapid delivery of the appliance we needed and a very competitive price for our rental. - We were unaware of the variety of products you have available for rent or purchase. The furniture selection was excellent and we are definitely going to return to the store when we need living room furniture or a television. We felt much more comfortable than at the large furniture stores with exceedingly higher prices."
Anthony C. - 08/2021 – Stow, OH
"I always experience the best customer service at Rent A Center and this is the main reason why I continue to ship there and not at other stores, they always have what I'm looking for and if by some chance they don't they find it for me…."
Peter W. - 08/2021 – Buffalo, NY