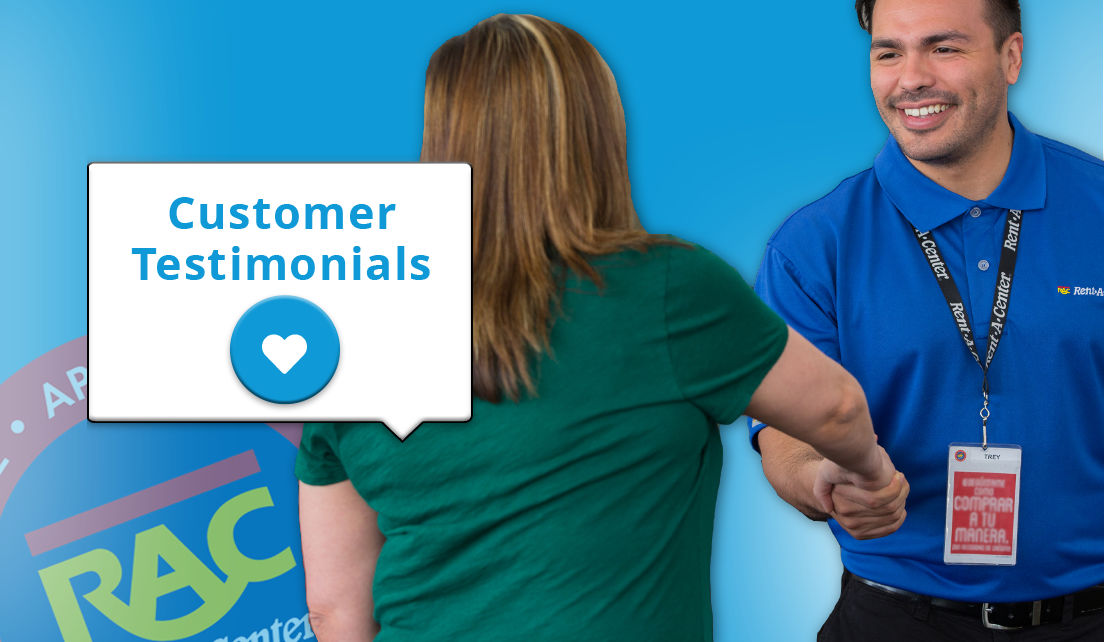 Customer Testimonials
This is why we do what we do, but don't just take our word for it. Let our customers do the talking!
"The service was great and the guys were very respectful when they came to our house. Payments were affordable so I could get my husband what I've been wanting to for many years! - Affordable payments - Thank you."
Heidi M. - 04/2020 - Buckhannon, WV
"Extremely helpful crew! delivery guys were very helpful and patient even during this crazy virus time. Smooth and easy from start to finish."
Joseph C. - 04/2020 - Yonkers, NY
"I really like and appreciate the business interaction between the manager of the store and myself. I made several purchases from this store/manager and from day one she has made feel as if I'm getting world class service."
Joe D. - 04/2020 - Duncanville, TX
"Responsive, timely, professional, quality name-brand products, low prices, accessible, telephone and/or email follow-up. - A totally different experience than expected, all in a positive light. I just did not believe that RAC would be like any other appliance store. It was NOT, it was better. Thank you!"
Jennifer B. - 05/2020 - Eureka, CA
"They did an awesome job at helping me right away even with what's going on with the epidemic they still made me feel comfortable and got me what I needed fast the staff at this particular are store is the best."
Guadalupe H. - 05/2020 - Buffalo, NY
"The team at this store is AMAZING! Professional, friendly and they go above and beyond to assist and support the customers. - Tom & Katie went out of their way to assist me in getting the products I needed quickly. Tom squeezed in the delivery of my fridge because we are moving this weekend."
Wendy H. - 05/2020 - Branson West, MO
"My visit was a very last minute decision,I went in and within an hour I was out the door. Everything was signed and set up for delivery. The employees that were working that day was friendly and very professional. I will definitely refer my friends."
Terri S. - 05/2020 - Spokane, WA
"Always amazing fast and friendly service! - I am always amazing at the excellent customer service and they always make me feel so welcome and the staff are always so kind and helpful! And I will continue to shop at my rent a center they make me feel like family! Thank you!"
Sean G. - 05/2020 - Victorville, CA
"The two men were very professional and highly knowledgeable about their task at hand. They were done in minutes where it would be hours for others. Their ability to address the current "Covid - 19" was again nothing less than profesionalism for them and my family. Safety seems to be paramount and encouraged my family to remain comfortable and at ease. Thank you"
Robert K. - 6/2020 - Bath, ME
"Everyone was incredibly helpful, and they helped me deal with replacing my broken refrigerator in a timely way. Thanks!! - Just that everyone was great!!"
Amy S. - 06/2020 - Granite City, IL
"I really like how professional and friendly the guy I talked to on the phone was. I also liked that the 2 guys that dropped off the fridge were wearing masks and doing social distancing when showing them were to put the fridge of Covid-19 guidelines."
Heidi G. - 06/2020 - Tulsa, OK