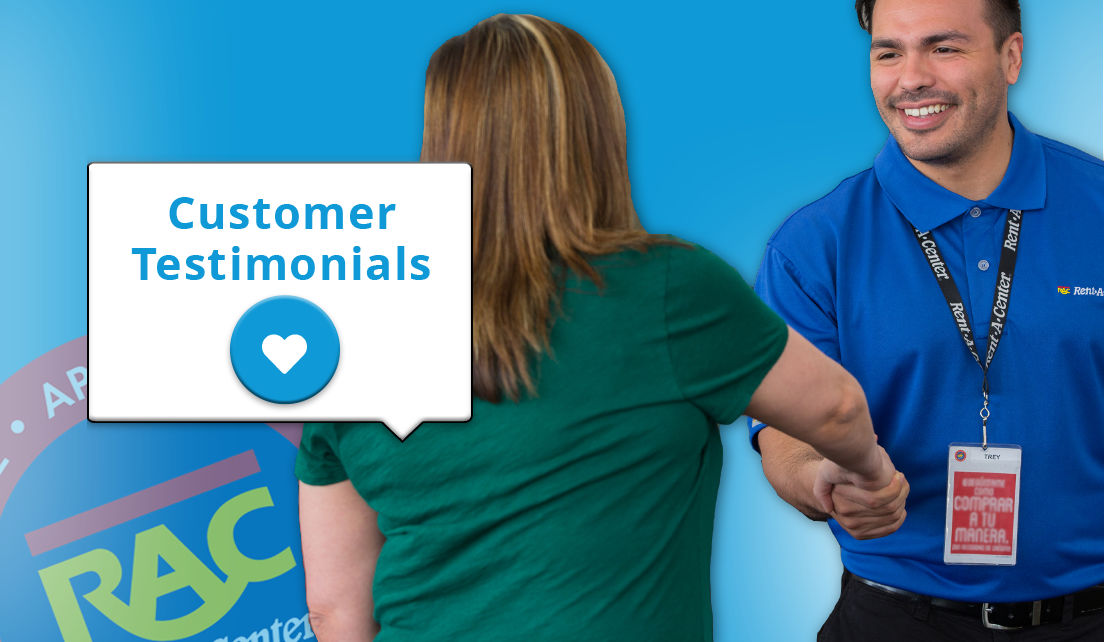 Customer Testimonials
This is why we do what we do, but don't just take our word for it. Let our customers do the talking!
"The gentleman that delivered the furniture to stage the house was AWESOME. He had to make two trips to get us everything we ordered. He had help for the first trip but had to return alone for the second trip. Note that it was also 100 degrees outside. I felt so bad for him. I don't think there was a dry spot on his body. But, to his credit and beyond, he had a wonderful attitude and a great demeanor. Thank you, GARY"
Cynthia D. - 06/2021 – Emporia, KS
"Anthony at the RAC in Beaumont, TX location is the best!! I had some issues paying because I was in the hospital, and I was severely past due. He did what he could and helped me keep my furniture by paying what I could until I went back to work. Always courteous, professional, and friendly."
Bruce T. - 06/2021 – Beaumont, TX
"Good quality items. Love the cash price option. It makes easier to own it earlier. The Anniston, AL store has great people and great customer service!"
Darryl S. - 06/2021 – Anniston, AL
"Kimberly the mgr. is incredible. She helped us get a bed & living room furniture while we waited for our movers to arrive with our furniture. She was extremely patient & efficient. Absolutely 100% review for this store & Kimberley!! The Beaverton OR store is GREAT! We would use them again with no hesitation!"
Jonathan W. - 05/2021 – Beaverton, OH
"Store employees were very helpful, I needed a short-term rental they were on the ball, delivered on time, were very courteous and I would certainly recommend someone who needs a rental to call them. I was a short-term customer always, and the store employees understood that. Still, they treated me like a long-term customer."
Dora C. - 5/2021 – Charlottesville, VA
"Great happy friendly customer service and amazing products and prices. Very pleased with doing business with this store. Customer service isn't what it once was in most businesses these days, but your store goes over and beyond, always helpful, patient, kind and knowledgeable. Thank you!"
Sheila T. - 04/2021 – Roseburg, OR
"The experience was genuinely fun and the people I interacted with had awesome attitude, and very insightful about all my concerns and questions I had. In closing the deal I felt dire that this was something I wanted to commit to. And I'm excited and glad I decided to go the renter's way!!!!  Thank you rent a center. You've got me motivated to take the next step to my positive future. I think your offers and promotions will bring you a world of happy customers."
Kim S. - 04/2021 – Parkland, WA
"The delivery driver was awesome. I was running behind and he waited on me! He was professional and he was greatly appreciated I did basically everything online, so he made that real impression. Thanks."
Jason P. - 04/2021 – Gadsden, AL
"Y'all have a very high quality of hospitality and were very patient. Love the furniture and driver was patient and also careful with furniture. Thanks for being GREAT."
Monica C. - 04/2021 – Fort Smith, AR
"If someone needed something and they did not have good credit I would tell them to go there because the staff is very polite and very helpful. They bend over backwards to help you get exactly what you want."
Becky W. - 04/2021 – Hermitage, PA
"No complications and my local store go above and beyond for me to locate exactly what I want. - Payments calculated for early payoff is great!"
Leota R. - 04/2021 – Littleton, NH