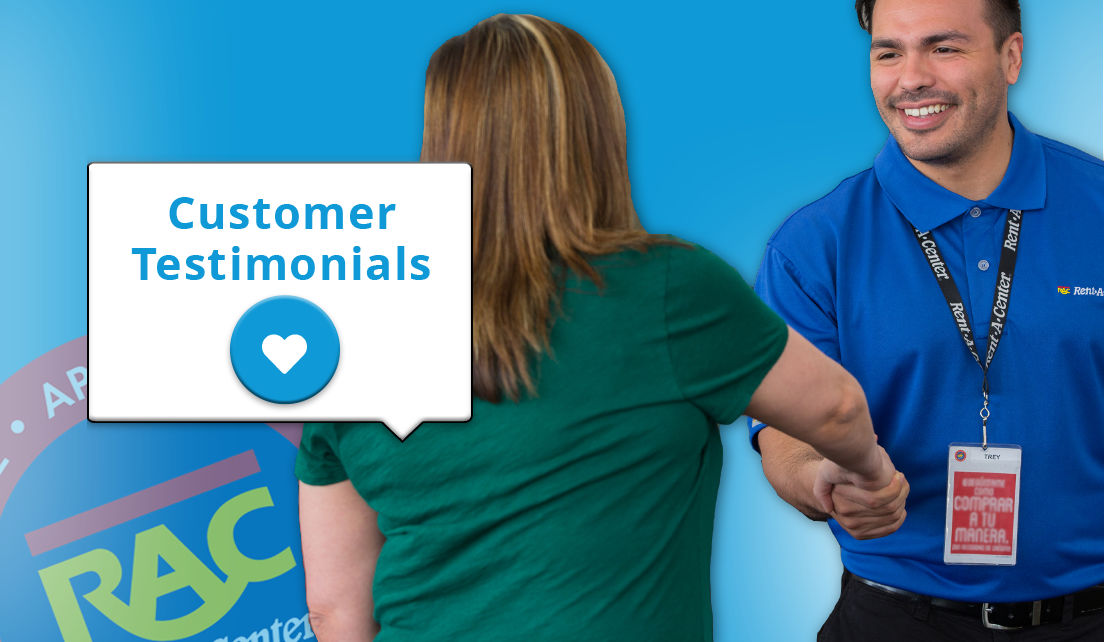 Customer Testimonials
This is why we do what we do, but don't just take our word for it. Let our customers do the talking!
" I had a wonderful experience. Sheryl was amazing. She was informative and provided excellent customer service. Sheryl made sure I was happy with product, price, and terms. It was so quick and easy... I was literally in & out in 30 minutes. With no pressure to buy, great selection on new product & fast and easy approval. It was great shopping experience. I highly recommend this location for great service. Ask for Sheryl! "
Niva T. - 11/2022 – Leland, NC
" Easy process and very minimal initial payment. I'm telling everyone I know how great RAC is to their customers."
Amanda B. - 11/2022 – Richardson, TX
" The quality of the furniture (bed and frame) that I purchased from them. Best mattress I have ever had. They are the most helpful and understanding people when it comes to running into financial difficulties and working with you to get it paid off but work within your finances. I will never use another business to purchase furniture I need to make payments on again. I absolutely love the staff and products from RAC! <3 ~~~THANK YOU ALL! "
Dali J. - 11/2022 – Plainwell, MI
" It was very easy to find what you're looking for and nice to be able to pay online. I would recommend Rent-A-Center to my friends and Family."
Deborah M. - 11/2022 – Cleveland, OH
" I really like the online ability to pay my payments and when I need to call my store the guys are always very helpful and willing to help out. "
Laura R. - 10/2022 – Philadelphia, OH
" I was shocked at how fast and easy it was to begin paying on an item I wanted. I made the order online and had a phone call and then was able to go pick it up the same day. It was awesome. And the pricing is actually a lot better and affordable than what I thought it would. "
Shane E. - 11/2022 – Parkersburg, WV
" I just finished paying off my washer and dryer and had no issues what so ever with them I'd highly recommend them to anyone. They were great! "
Sarah H. - 10/2022 – Grand Forks, ND
" Great workers, very professional in store and delivery. They are always neat and clean in the store front. Answer all my questions, always going the extra mile to make sure I get what I need in a timely manner. Shout out to the Opelika store, they all rock as a whole and individually. "
Angel M. - 10/2022 – Opelika, AL
" They are amazing! We moved here from another state and they made sure we had everything we needed in our home quickly. We had a death in the family and missed work and they worked with us on our payment! Brandi is the best and the other staff as well very helpful! Highly recommended! "
Jessica G. - 10/2022 – Homeland Park, SC
" Very satisfied with the quality of items we've purchased from Rent A Center they work us on A plan that's affordable within our budget. I would highly recommend Rent-A-Center. If they don't have items you need in their store they will go above and beyond to get it for you. They also deliver and the employees who deliver will bring the items in your home and set it up. Very respectful and honest people. Thank You Rent-A-Center. "
Peggy A. - 09/2022 – Lansing, MI
" My mom has been in service with this Rent-A-Center for years and referred me. I was in need a of a couch and refrigerator for my home. The manager, DaShon, was very helpful even while being very busy. He helped me to get what I was looking for, at the price I was looking for. He was very professional and I received my things in a timely manner."
Ashley C. - 09/2022 – Long Beach, CA