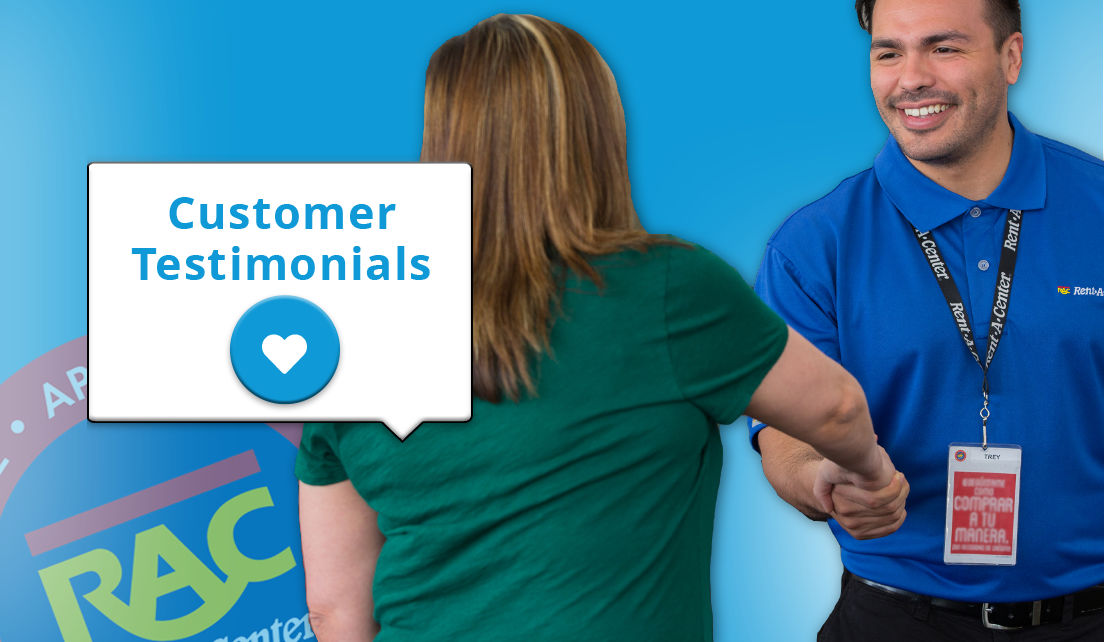 Customer Testimonials
This is why we do what we do, but don't just take our word for it. Let our customers do the talking!
"Rent A Center has been very understanding and flexible with COVID-19. I want to definitely thank the store manger Maria, Cody and William."
Kerstin V. - 04/2020 - Lorain, OH
"I really enjoyed the service was able to get it the same day. Everyone was always nice and polite and very helpful. - You guys make it easy and affordable to own. You guys have a great customer service. - Keep up the good work"
Eduardo M. - 04/2020 - Poughkeepsie, NY
"The staff was super friendly. With the crisis that is going on they were very helpful. I highly recommend the store and company. - As essential employees I want to say thank you and be safe during this crisis that we all are facing. God bless."
Melinda P. - 04/2020 - Fayetteville, NC
"Most of the things that are in my house is from Rent-A-Center and every time I come to make an agreement with you all I always get the best customer service that a person could get I thank you for being there for me."
Doretha C. - 04/2020 - Humble, TX
"They are a great group of guys that are always willing to help someone. - These guys deserve a big thank you for continuing to work during this hard time."
Missie G. - 04/2020 - Booneville, MS
"Due to COVID-19 the Rent A Center employee who came to deliver our washer and dryer couldn't come into our home to set up but was VERY respectful and willing to help in the best ways he could from outside!"
Ryan C. - 04/2020 - Clinton, IA
"From the beginning, all the staff were friendly and helpful. High quality merchandise and great selection. The same-as-cash option is a plus. On 3/20/20 I was furloughed due to COVID-19 and have no anticipated return to work date. The manager Jerry gave me paperwork to complete in order to waive payments. I am glad I have that option. Take care and be safe."
Russell D. - 04/2020 - Dayton, OH
"The staff is very understanding and works hard to find what you are looking for! They have gone out of their way for me and my family to make sure we have everything we need in a timely manor. I appreciate the Bay City location and all their staff does for my family. - Keep up the great work and let us know when the next great deals arrive - All around great store, easy to communicate with very understanding and friendly . Good job Rent A Center!!"
Lora C. - 04/2020 - Bay City, MI
"I have been a long standing customer on and off for years now, and I love the friendly atmosphere and readiness to help people find exactly what they want. - Absolutely love the employees, and they're always positive."
Tiffany F. - 04/2020 - Louisville, KY
"This was my first RAC experience and every part of it was positive. Rod at the Deerfield Beach store was amazing. This is how customer service should be! - I only needed this chair for a month. It was so comfy we were tempted to keep it, but we really didn't have room for it. - It was a wonderful experience. I've already recommended RAC to friends and family."
Lynne B. - 04/2020 - Deerfield, FL
"They are always there to help and offer their advice for you and the delivery is awesome!!! - I have used you guys 20+ years. Never ran into a problem. If something came up, you guys were there. Thank you."
Cynthia B. - 04/2020 - Tulsa, OK