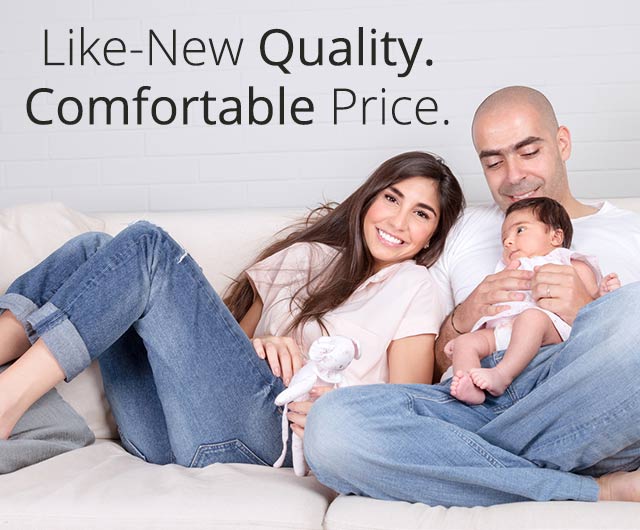 Save Even More with Previously Rented Products
---
At Rent-A-Center, you can rent to own — or purchase outright — used furniture, appliances, computers, electronics and smartphones, making it even more affordable to get the items you want.
Rent-A-Center's used products are quality, brand-name items (like Ashley Furniture, Whirlpool and Samsung) that come from customers who find they need different products than what they originally rented or customers who ended their rent-to-own agreements. When you choose a previously rented product, you enjoy big savings – up to 50% off when compared to an item in new condition**.
Ensuring Quality of Previously Rented Products
---
All of our previously rented furniture, appliances, computers, electronics, and smartphones go through a rigorous quality inspection process that includes thorough cleaning and testing. We make sure that accessories (such as remote controls, speakers, etc.) are in top shape and all parts (such as handles, bolts, knobs, etc.) are included. At Rent-A-Center, each refurbished item is restored to the best possible condition. We do the work, so you can enjoy the savings.
· Used laptops, computers, and electronics go through a factory reset process to restore the memory and remove all previous customer information. The rental items are thoroughly cleaned.
· Used smartphones also undergo a factory reset so all previous customer information is removed.
· Used appliances are cleaned. Any damaged shelves, drawers, racks, and small scratches are repaired.
· Used furniture receives a thorough cleaning to remove debris and stains in-house, and we touch up scratches or nicks on feet and legs. If necessary, furniture is sent to a professional upholstery cleaning service.
Visit a Rent-A-Center store near you to discover a wide variety of previously rented products at a great price, including Ashley Furniture, Whirlpool appliances, HP computers, LG electronics and Samsung smartphones. Our previously rented inventory varies from store to store with different great deals available at each Rent-A-Center location.
As always, when you rent to own from Rent-A-Center, you don't need credit or a large initial payment.** Begin your order online and enjoy your rent-to-own items as early as today with free same-day delivery.**